By Winki |
19
July 2022 |
1
Comments
How To Test The Quality Of Hair
Nowadays, when you plan to purchase some premium hair, you will find many companies are using marketing terms such as Remy and Virgin hair and state they offer the best quality of hair. But it is not always completely true. In this case, it's very vital to be aware of how to test the quality of the hair you purchased. Therefore, we put together a guide to help you to test the quality of your hair.
How To Test If Hair Is Good Quality
1. Shedding Test
As we all know, it is normal for your hair to fall out like your natural hair. But too much shedding is an obvious sign of poor-quality hair. So you can run your fingers through your hair to test the quality of your hair extensions. If the hair is silky, smooth, and easy to detangle with little shedding, it means the hair is of high quality. While if you find your hair is easy to tangle and has too much shedding, it is a sign of inferior quality hair.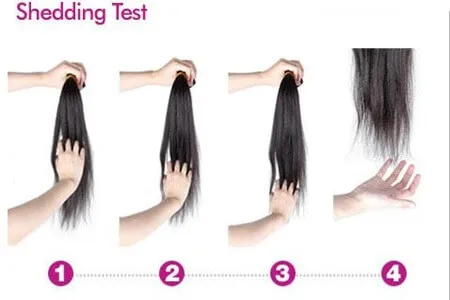 Of course, when you use a wide-toothed comb to brush hair instead of your fingers, it also works well. That applies the same rules: The higher quality hair is, the less shedding is. On the contrary, the more shedding is, the poorer the quality of your hair is.
2. Burn Test
This is the one foolproof way of making sure whether the hair is 100% virgin human hair or synthetic. You just need to pull a couple of long strands of hair out and hold them above a flame. And it would be better to cut a small bundle of hair to avoid accidentally damaging more hair. When the hair starts to burn, it is time to observe carefully. During the burning process, observe how it burns, how it smells while burning, how easily it can be extinguished, and what kind of ash it leaves behind.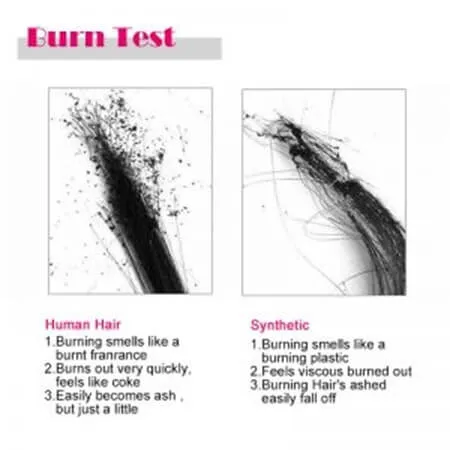 ★ Human Hair, as a protein fiber, will burn briefly and will not continue to burn unless you hold it to the fire. Besides, the brief flame is orange, then the hair will leave dark ash after charing and also will turn to powder when crushed. Don't forget the smell is similar to the odor smells of burning flesh or burning feathers.

★ Synthetic hair is either nylon fibers or polyester fibers.

Nylon Fibers, usually will burn rapidly and then melt. The sparkling flame has a blue base and orange tip. Different from protein fiber, the ash is similar to hard amber beads and will give off the smell of boiling green vegetables.

Polyester Fibers will burn and melt quite rapidly in the same instance. But the sputtery flame is orange and with black smoke. What is the most different is that it will melt, drip, then become sticky to the touch before forming ash of hard black beads. Through noticing these changes, you can tell what hair extensions you purchase are made of, thus judging the quality of your hair extensions. In the process of the burn test, please make sure you use a lighter or an unscented candle.
3. Scrunch Test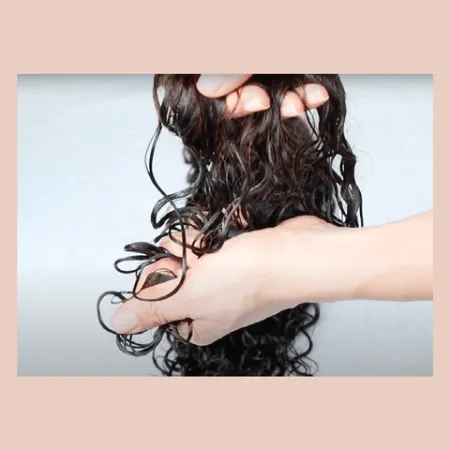 While using one hand to hold the top of the hair, place your other hand underneath the ends and push them up at the same time until they touch the roots. The next step is to rub your hands together to cause slight friction in the hair and then release. In the end, run your fingers through the hair. If your fingers slide freely through the hair, there is no doubt the hair is high quality. And the more it snags and gets caught, the lower the quality of your human hair bundles are.

4. Bleach Test
As above mentioned, burn tests can help you differentiate synthetic hair and human hair. And the bleach test can help you recognize the quality of hair. After all, chemically processed hair might have been bleached or dyed before, so it is difficult to bleach the hair again.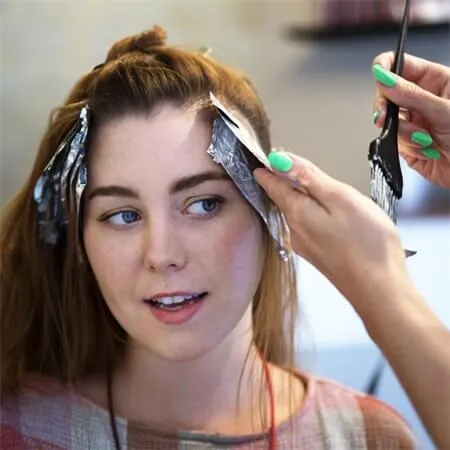 To do the bleach test, you can get any hair bleach at a beauty supply store. Then take out small strands of hair and apply the bleach on the hair. Wrap it in thin plastic wrap and wait for 30 to 40 minutes. If the hair starts turning orange or yellowish within the suggested bleach time frame, it is virgin hair. If no, it means it is not virgin hair.
5. Washing Test
It is a quick test to check if the hair you bought is processed with chemicals. Pure virgin hair is 100% chemical-free.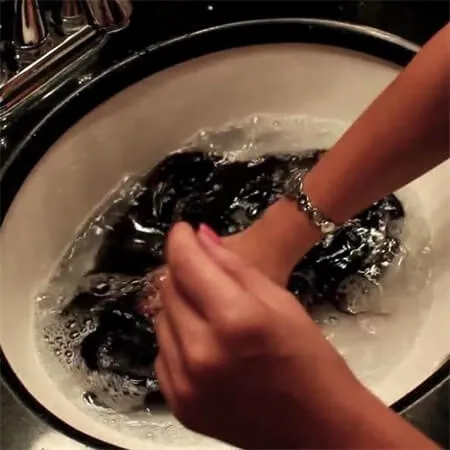 By putting your hair in clear water, apply a neutralizing shampoo in the size of a dime after wetting the hair, and then massage the hair. If there are chemicals added, the shampoo foam will turn pink. For 100% virgin human hair, the water should be clear and clean as before you placed the hair in the water. However, this test might not always be fully accurate. If the vendor has taken the time to wash the chemicals out, you won't see the clear change.

6. Tangle Test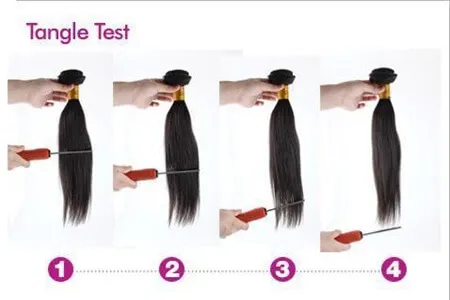 It's normal for any kind of hair to tangle. But if your hair tangle excessively after washing, it could be chemically processed hair. That is because chemically processed hair is collected from dirty sources and is bathed in acid to strip off the dirt and cuticles. Thus, it is no cuticles, thus becoming tangled excessively.

7. Cuticle Test
Real virgin hair has the cuticles aligned in the same direction from root to end tips and also is called Remy hair. While hair with cuticles in a mixed direction is called non-Remy hair.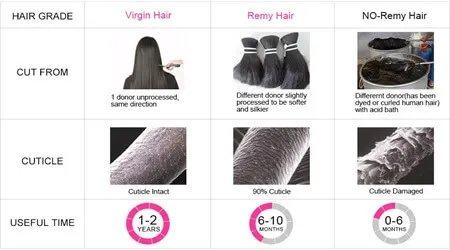 By selecting some hair strands and letting the hair run through your fingers, you should feel more resistance going up than down. If you don't feel any resistance, that means the hair is either synthetic or chemically processed. If you feel resistance in both directions, the hair may still have cuticles, but they are not aligned properly.
8. Observation Test
Many people might think the hair on your hair extensions should be absolutely perfect. In fact, it is a wrong thought. Because real virgin hair grows naturally on the scalp, you're unlikely to find virgin hair with perfect tips or totally symmetrical curls. If you find the hair has irregular curves, waves, or ringlets, it's probably real virgin hair.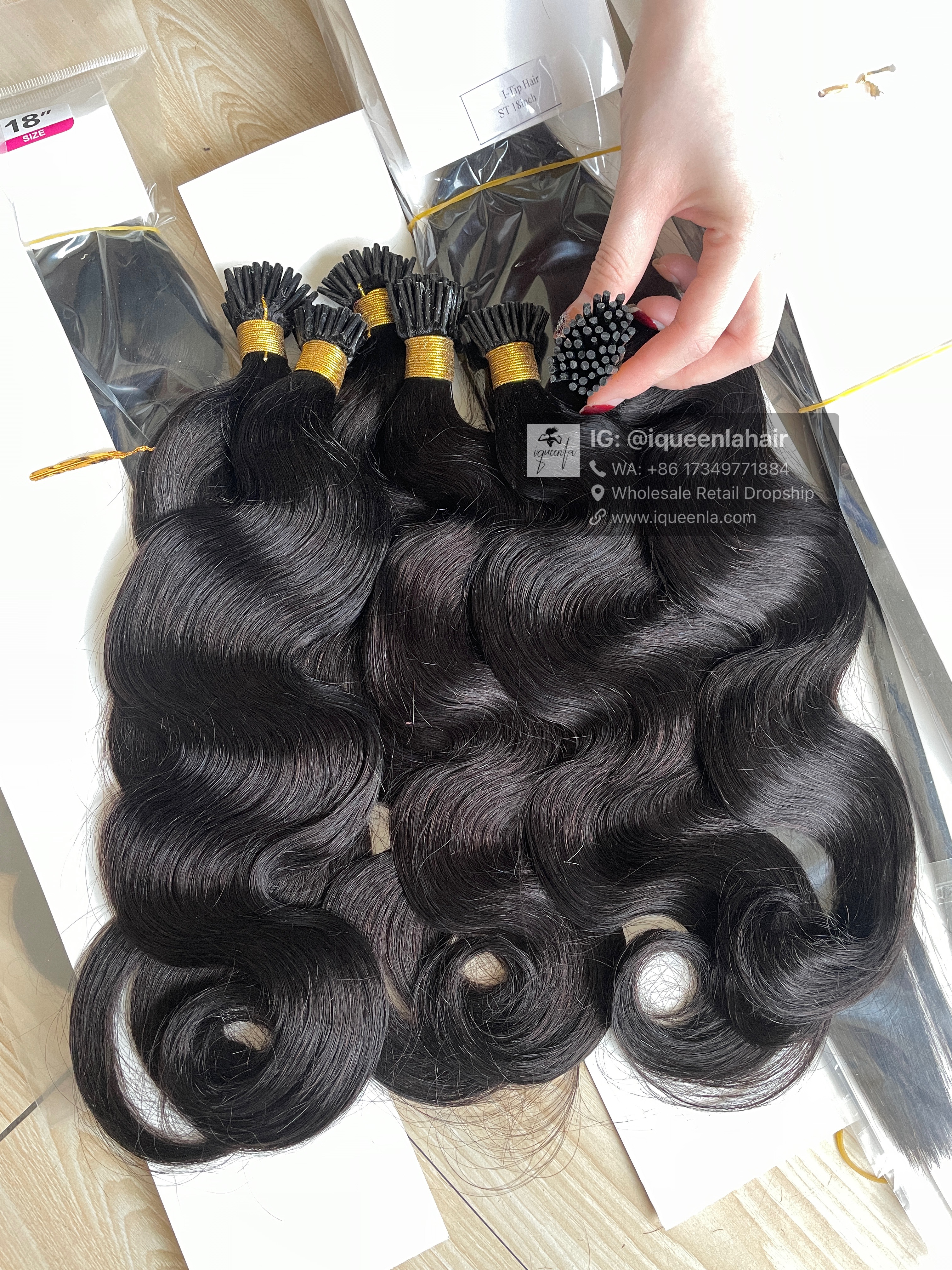 If the hair looks very perfect and has a completely uniform texture, that's a warning sign that you may buy synthetic or processed hair. If the hair is totally straight and even without any styling, it's very likely that the hair is synthetic hair, too.
Leave a Reply
Your email address will not be published.Required fields are marked. *